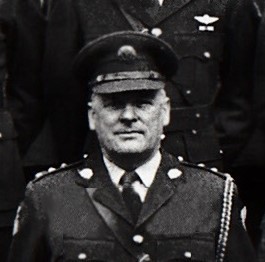 ARCO regrets to inform its members of the death of Commandant James (Jim) Carley, Raheny, Dublin and formerly of Rathwire, County Westmeath. Peacefully at The Beacon Hospital on August 25th, 2021. Beloved husband of Florence, and loving father of Jim, Patricia, Paul, Robert, Karen, and Stephen. Loved, cherished, and missed by his grandchildren and great-grandchildren, sons-in-law, daughters-in-law, his extended family, Defence Forces colleagues and friends.
He served the Lord with gladness and singleness of heart
Jim Carley was born on 9th February 1932. He enlisted in the Defence Forces and was a Company Sergeant in Eastern Command Headquarters Dublin when he was selected as a student on the 2nd Potential Officers Course in 1970. Jim was an able and respected Class President and on commissioning was assigned to the Signal Corps and posted to 1 Field Signals Company in Cork. Promoted to Captain in 1975 he was transferred to the Supply and Transport Corps and posted as Admin Officer, at its Base Workshops in Clancy Barracks, Dublin. Jim served for the remainder of his career in Clancy Barracks.    
A private family funeral took place for Jim on Friday, 27th August 2021 followed by burial at St Fintan's Cemetery Sutton. Due to current government health restrictions attendance was by direct invitation but a recording of the service may be viewed at: https://www.youtube.com/watch?v=QWkt4ZRJQyA
Members may wish to leave personal messages in the 'Condolences' section of Jim's death notice on rip.ie – https://rip.ie/death-notice/james-carley-raheny-dublin/467878