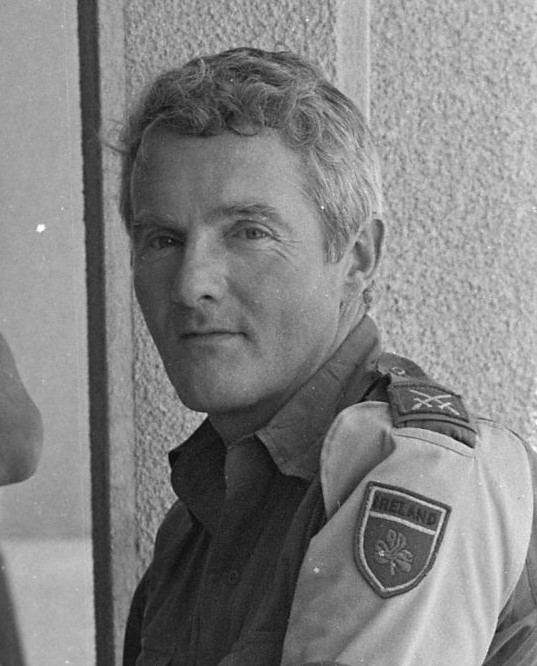 ARCO regrets to inform its members of the death of Colonel Seán Norton DSM of Marian Road, Rathfarnham, Dublin. Peacefully, at Ratoath Manor Nursing Home, Ratoath on Tuesday, 24th August 2021. Husband of the late Mary and father of Gabrielle, Paul and Brian, grandfather of Emily, Steven, Sarah, Mark, Daniel, Philip, David and Rose, great-grandfather of Tadhg, brother of Betty, Michael, Colette, Des, Brendan, and Deirdre. Sean will be sadly missed by his family, daughters-in-law Miriam and Sharon, son-in-law George, nephews, nieces, relatives, neighbours and Defence Forces colleagues and friends.
May he Rest In Peace
Seán Norton was born on 2 May 1935. He joined the Defence Forces as a Cadet with 30 Cadet Class (1955-1957) and was commissioned on 25 November 1957. He served in the Eastern Command in 2 Infantry Battalion, 20 Infantry Battalion and as Officer Commanding 5 Infantry Battalion. He was a Staff Officer in Training Section and in Operations Section, Defence Forces Headquarters. As a Colonel, he was Executive Officer and Second-in-Command Eastern Command.
Seán had extensive overseas service. As a Lieutenant he served with the United Nations Operation in the Congo (Opération des Nations Unies au Congo) as a Platoon Commander with A Company 36 Infantry Battalion. He fought at the Battle of the Tunnel in December 1961, and was awarded the Distinguished Service Medal with Distinction. The citation reads:
For distinguished service with the United Nations Force in the Republic of Congo (ONUC), for leadership and courage.  From 08 to 16 December 1961, immediately on its arrival in Elizabethville, Captain Norton's platoon was involved in active operations. The platoon displayed efficiency, aggressiveness and high morale under heavy fire, and this was due to Captain Norton's leadership and courage. His disregard for his personal safety and his tireless energy were an inspiration to his men.
He served twice with the United Nations Peacekeeping Force in Cyprus (UNFICYP), first as a Platoon Commander with A Company 42 Infantry Battalion from April to September 1965, and as Operations Officer 18 Infantry Group from March to October 1970. He was Operations Officer with 43 Infantry Battalion, the first Defence Forces unit to serve with the United Nations Interim Force in Lebanon (UNIFIL) in 1978, and went on to serve a second tour with UNIFIL. He served with the United Nations Truce Supervision Organization (UNTSO) in the Middle East in 1982–83. Seán served in Central America with the United Nations Observer Group in Central America (ONUCA) and with the United Nations Observer Mission in El Salvador (ONUSAL) in 1991-92. Seán's last overseas service was as Senior Military Adviser to the Irish Ambassador to the Organization for Security and Co-operation in Europe (OSCE) in 1984–85.
Due to current restrictions a private family funeral will take place for Seán followed by cremation in Glasnevin crematorium. Those who are unable to attend can follow Seán's Funeral Mass on the following link at 12 o'clock on Friday https://www.ashbourneparish.ie/news/church-services-tv/  
Family flowers only, please. Donations, in lieu, to Our lady's Hospice, Harolds Cross.
Members may wish to leave personal messages in the 'Condolences' section of Seán's death notice on rip.ie – https://rip.ie/death-notice/colonel-sean-norton-rathfarnham-dublin/467763