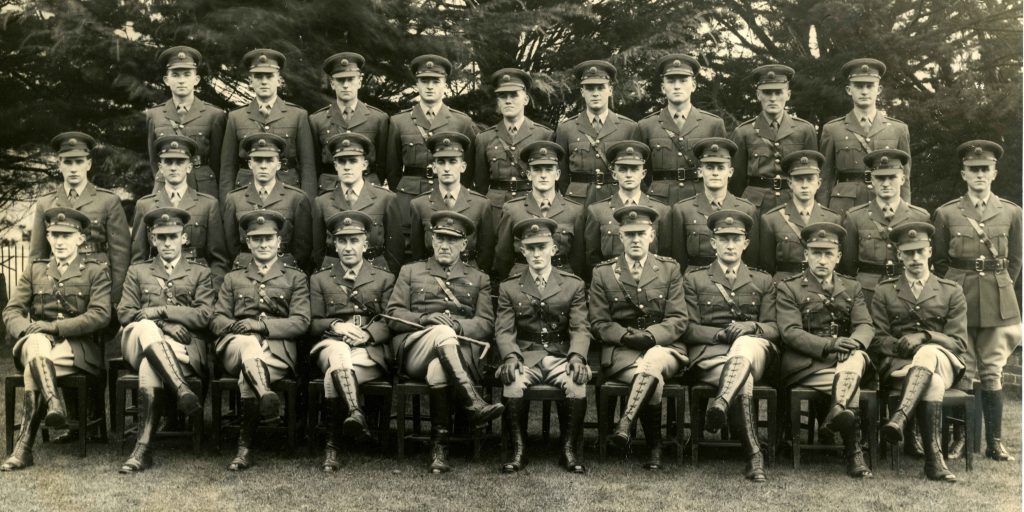 ARCO regrets to inform its members of the death of Commandant Brian Kavanagh of Rathfarnham, Dublin 16, and formerly of Newbridge, County Kildare and of Boher, County Westmeath. On 30th April 2022, peacefully at the Beacon Hospital, Dublin. Beloved husband of Mary. Sadly missed by his family, son Tom, daughters Philomena, Anne-Marie and Helen, daughter-in-law Ayumi and son-in-law Philip, sisters Caitlín, Máire and Peig, brothers Paddy and Michael, sisters-in-law Maura, Nellie, Monique and Mary, nieces and nephews, stepsons Andrew and Simon, stepdaughter Leontia, stepdaughter-in-law Barbara, Simon's partner Nelly, stepson-in-law Brian, grandchildren, step-grandchildren, and great-granddaughter Róisín. Brian is predeceased by his brothers Seán and Éamonn.
Brian Kavanagh enlisted in the Defence Forces on 7th December 1953 as a member of 28 Cadet Class and was commissioned as a Corps of Signals officer on 28th November 1955. He served for part of his career in Depot Signals in the Curragh. As a Lieutenant Brian served with the United Nations Operation in the Congo with Headquarters Company, 36 Infantry Battalion from November 1961 to May 1962. Having qualified as a psychologist he sat on many cadet interview boards. Brian was a very prominent footballer in his younger years and played football with Saint Finian's College, Leinster Colleges, Rosemount, and Westmeath.
There is no funeral at this time as Brian's wish was for his body to be donated to University College Dublin for medical research.
Members may wish to leave personal messages in the 'Condolences' section of Brian's death notice on rip.ie – https://rip.ie/death-notice/brian-kavanagh-rathfarnham-dublin/494726/print