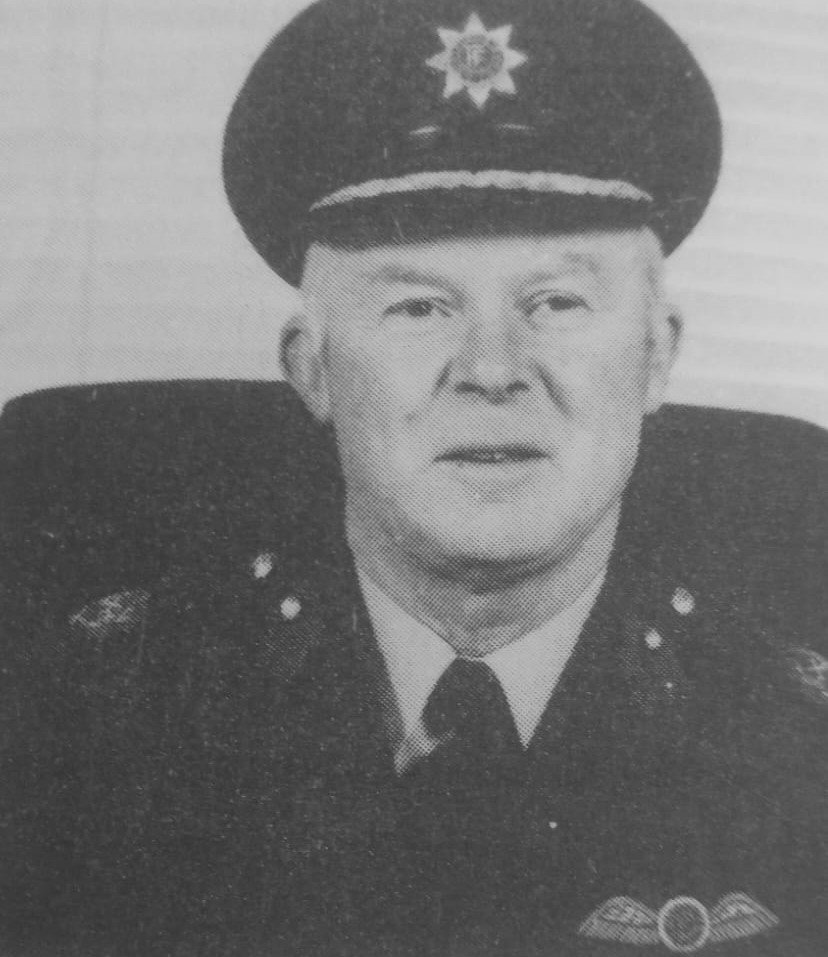 ARCO regrets to inform its members of the death of Brigadier-General James Connolly of Coolnevaun, Kilmacud, County Dublin, who passed away peacefully on Thursday, 24th November 2022, in the loving care of Newtownpark House Nursing Home. Dearly beloved husband of the late Catherine (Kitty) devoted and much-loved father of Jessica, John (Seán), Joanna, Katherine, and the late Roddy and Séamus and father-in-law of Gwen, Brian, Eugene, and Peter. He will be fondly remembered and sadly missed by his grandchildren, great-grandchildren, nieces, nephews, extended family, friends, caring neighbours, Air Corps and Defence Forces colleagues.
Ar dheis Dé go raibh a anam dílis
Born on 8th November 1922, a grandson of the patriot James Connolly, Commander of the Irish Citizen Army, and Commandant of the Dublin Brigade during the 1916 Easter Rising, James Connolly enlisted in the Defence Forces during the Emergency and in 1944 was a member of 4 Young Officers Wings Course. He went on to fly a wide variety of Air Corps aircraft including the Avro Anson, De Havilland Dove and the legendary Supermarine Seafire and Spitfire types. An accomplished pilot, he completed the 6 Flying Instructors Course in 1948. James was heavily involved in the early 1950s photographic survey of the national coastline, finding high risk areas for possible future invasions. Flown by Spitfires and Ansons the pictures were also fed to the Ordnance Survey of Ireland, helping to keep their mapping database up to date. As a Lieutenant-Colonel James was author of the Board Report and Operational Evaluation Assessment which led to the procurement, on a short lease, of an Aerospatiale SA330J Puma helicopter in 1981. This turned attention to the need for a replacement for the Alouette helicopter in the form of the SA365Fi Dauphin, with deliveries starting in 1986. James ultimately achieved the rank of Brigadier-General and was GOC Air Corps from 1983 to 1986.
In 2016 James and his family presented their grandfather's 1916 medals, those of his daughter Nora Connolly-O'Brien, his son Roderick James Connolly, along with his own, which included an overseas service medal with the United Nations, to the National Museum of Ireland. Living as he did through the first 100 years of Irish independence, and having deep family connections with that struggle, James was quietly proud to continue the tradition of service.
Reposing at Colliers Funeral Home, Old Connaught Avenue, Bray on Tuesday (November 29th) from 6.00pm to 8.00pm, with Prayers at 7.45pm. Requiem Mass on Wednesday (November 30th) at 10.00am in the Church of Saint Laurence O'Toole, Kilmacud, followed by burial in Shanganagh Cemetery. The Mass may also be viewed online at: https://churchmedia.tv/church-of-st-laurence-otoole-kilmacud
Family flowers only please.
Members may wish to leave personal messages in the 'Condolences' section of James' death notice on rip.ie – https://rip.ie/death-notice/brigadier-general-ret-d-james-s%C3%A9amus-connolly-kilmacud-dublin/515539