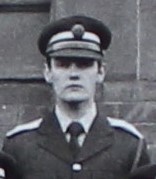 ARCO regrets to inform its members of the death of Commandant Senan McGrath of Crofton Street and Burton Street, Kilrush, County Clare. Senan died on Sunday 29th November 2020 in his native Kilrush. He is deeply regretted by his mother Maura, brothers Michael and Gerard, sister Mary (Healy), sisters-in-law, brother-in-law, nephews, nieces, cousins, relatives, Defence Forces friends and colleagues, especially the members of 50 Cadet Class.
May he Rest in Peace
Senan McGrath was born on 30 June 1953 and was educated at Kilrush CBS. He enlisted as a private in the Defence Forces and from there joined 50 Cadet Class on 28 November 1973. He was commissioned into the Infantry Corps on 2 December 1974 and was posted to 2 Infantry Battalion, Cathal Brugha Barracks. During his career he served in 27 Infantry Battalion, Depot Ordnance, McKee Barracks Company, the Army Equitation School, 7 Infantry Battalion FCA, and Logs Support Battalion 2 Brigade.
Senan served overseas with UNIFIL on three occasions. He was Platoon Commander A Company 44 Infantry Battalion (November 1978 – April 1979), Second-in-Command HQ Company 58 Infantry Battalion (November 1985 – May 1986), and Second-in-Command A Company 67 Infantry Battalion (May – October 1990).
The Funeral Mass will take place at Saint Senan's Church Kilrush on Wednesday at 12 o'clock, followed by removal to Shannon Crematorium for 2 pm Service. Due to Government guidelines, a private Mass for 25 family members is permitted.
Members may wish to leave personal messages in the 'Condolences' section of Senan's death notice on rip.ie – https://rip.ie/death-notice/senan-mcgrath-kilrush-clare/440677