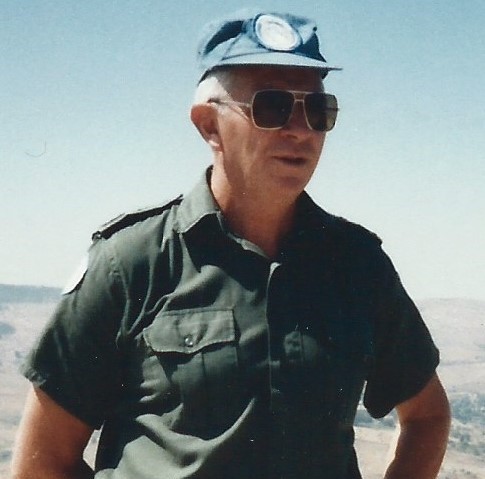 ARCO regrets to inform its members of the death of Colonel Michael (Mick) Moriarty of Kilmacud, Dublin on 3rd November 2022, peacefully at home, surrounded by his loving family. Predeceased by his wife Anne. He will be greatly missed by his children John, Niamh and Daragh, his adored grandchildren James, Myles and Ishaan, son-in-law Robert and daughter-in-law Deepika, extended family, relatives, Defence Forces colleagues and friends.
Mick Moriarty was born on 21st December 1931 in Bandon, County Cork and grew up in Listowel and Ennis. He enlisted in the Defence Forces as a member of 25 Cadet Class on 21th November 1950 and was commissioned into the Artillery Corps on 24th November 1952. Following his Artillery Young Officers' Course Mick was posted to 4 Field Artillery Regiment in Columb Barracks, Mullingar. In September 1957 he transferred to The Artillery School, and in 1959 was posted as Training Officer, 11 Heavy Mortar Battery, 6 Field Artillery Regiment (FCA). As a Captain, he was a Troop Commander with 2 Field Artillery Regiment and was later Training Officer with that unit's 14 Battery (FCA). As a Commandant he held appointments in the Directorate of Artillery, 2 Field Artillery Regiment, and 7 Field Artillery Regiment (FCA). As a Lieutenant-Colonel he was School Commandant The Artillery School, Officer Commanding Depot and School Artillery, and Regimental Commander 2 Field Artillery Regiment. Promoted to Colonel Mick was appointed Director of Artillery in January 1989.  Posted to HQ Eastern Brigade in 1990, as Second-in-Command and Executive Officer, he retired on 23rd January 1992.
Mick completed his first tour of duty with the United Nations Operation in the Congo (ONUC) as Platoon Commander, A Company, 34 Infantry Battalion from January through June 1961. During the period October 1964 through April 1965 he was Troop Commander, Heavy Mortar Troop, 41 Infantry Battalion, United Nations Peacekeeping Force in Cyprus (UNFICYP). In January 1974 he deployed to the Middle East as an observer with the United Nations Truce Supervision Organisation (UNTSO) serving initially on the Golan Heights and later in HQ UNTSO. From October 1979 to May 1980 he was Company Commander, Headquarters Company, 46 Infantry Battalion, with the United Nations Interim Force Lebanon (UNIFIL). Mick returned to Lebanon in April 1985 and served for eighteen months at UNIFIL Force Headquarters, initially as Camp Commandant and later as Senior Operations Officer. In March 1989 he was selected as the Senior Irish Officer with the United Nations Transition Assistance Group (UNTAG) in Namibia.  Later that month he was reassigned and deployed as the Chief Liaison Officer to the United Nations Angola Verification Mission (UNAVEM), based in Lubango.
Reposing at Massey Brothers Funeral Home, 5 Newtown Park, off Newtown Park Avenue, Blackrock, on Sunday, 6th November, from 3 p.m. to 5 p.m. A celebration of Michael's life will take place on Monday, 7th November, at the Garden Chapel, Mount Jerome at 3.45 p.m. Family flowers only. For those who cannot attend the service you may view it here: https://www.mountjerome.ie/garden-chapel-service/
Members may wish to leave personal messages in the 'Condolences' section of Mick's death notice on rip.ie – https://rip.ie/death-notice/col-michael-moriarty-kilmacud-dublin/513044