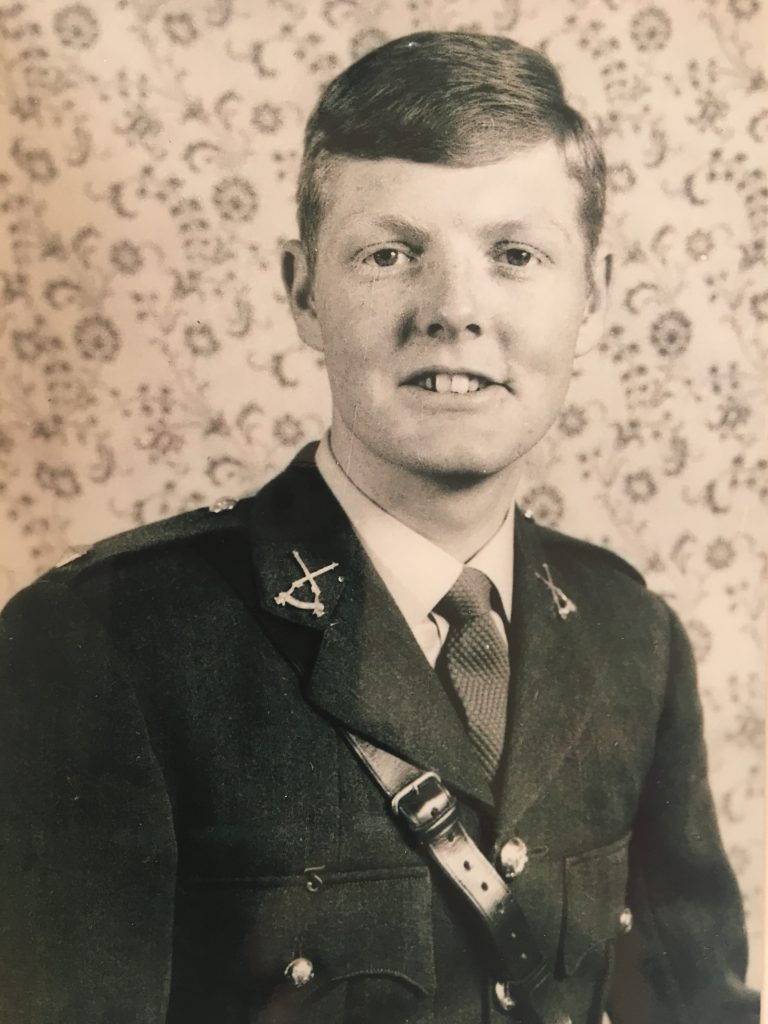 ARCO regrets to inform its members of the death of Captain John McSweeney of Killiney, County Dublin, and late of Patrick's Road, Limerick City. On October 11th, 2021, peacefully at home with his family at his side. Beloved husband and best friend of Pauline (née Greaney) loving father of Mairead, Gráinne and Eoin. Sadly missed by his wife, children and their partners, his adored grandchildren Caoilinn, Lena-Rosie, Lily and Clara, brothers Bobby and Kieran, sister Eibhlín, his extended family, former colleagues in the Defence Forces, IDA and ESB, and many friends at home and abroad.
Ní Bheidh a Leithéid Arís Ann
John McSweeney was born in Limerick City on 13th October 1950 and was educated in CBS, Sexton Street.  He was a member of 43 Cadet Class (1968-1970) and was commissioned on 28 September 1970 into the Infantry Corps and posted to 5 Infantry Battalion in Collins Barracks Dublin. John completed a BSc in Galway in 1973 and, on graduation, was posted to 2 Infantry Battalion Cathal Brugha Barracks. John, a fine hurler, won a Fitzgibbon Cup medal with UCG in 1970. In Oct 1973, John transferred to the Ordnance Corps, initially on a Young Officer's Course in Clancy Barracks and on completion served as an Instructor in the Ordnance School. John served overseas in 1979 with the 45 Infantry Battalion in UNIFIL Lebanon.
John retired from the Defence Forces in September 1980 and worked for IDA Ireland until 1989 when he joined Park Hospital Management. He joined the ESB In 1992, and, after holding many senior appointments within that organisation, became Managing Director of ESB International in 2005 and Executive Director of ESB Innovation in 2012. John retired from the ESB in November 2014.
John's Funeral will take place under Government guidelines at 11am on Friday, October 15th, in Saint Joseph's Church, Glasthule, and can be viewed online at www.churchservices.tv/glasthule followed by cremation in Mount Jerome Crematorium for family only.
Members may wish to leave personal messages in the 'Condolences' section of John's death notice on rip.ie – https://rip.ie/death-notice/john-mcsweeney-killiney-dublin/472546