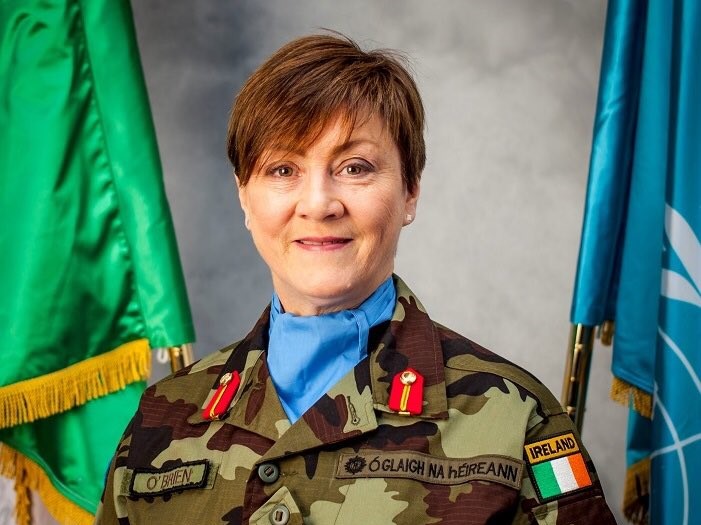 Major-General Maureen O'Brien has been appointed as Deputy Military Advisor to the UN Secretary-General, based in UN Headquarters, New York.
Her appointment follows a tour of overseas duty on the Golan Heights as UNDOF's Deputy Force Commander, in the rank of Brigadier-General. She was the first female officer of the Defence Forces to attain the rank of general. Shortly after deploying to the mission area in September 2119, she was appointed as Acting Force Commander, an appointment she held for 18 months.
Major-General O'Brien was a member of the 58 Cadet Class. On commissioning in 1983, she was appointed to the Infantry Corps. In 2011, she became the first female in the Defence Forces to be promoted to the rank of Lieutenant-Colonel, and in 2012 became the first female Infantry Battalion Commander when she was appointed Officer Commanding 27 Infantry Battalion garrisoned in Dundalk. As Colonel, she held the appointment of Director of Communications and Information Services. Major-General O'Brien has extensive overseas service with the UN and OSCE, including UNIFIL, MINURSO, UNTAET, MINURCAT and UNDOF. 
In UN Headquarters, Major-General O'Brien is deputy to Lieutenant-General Carlos Humberto Loitery (Uraguay) the current Military Advisor. The Military Advisor is head of the Office of Military Affairs and is accountable to the Under Secretary-General. The Military Adviser is responsible for providing military advice to the Under-Secretary-General for Peacekeeping Operations and, when requested, to the Secretary-General and the Security Council. The Military Advisor also provides advice and support to the Department of Peacekeeping Operation, and to military components on UN Peacekeeping Operations.