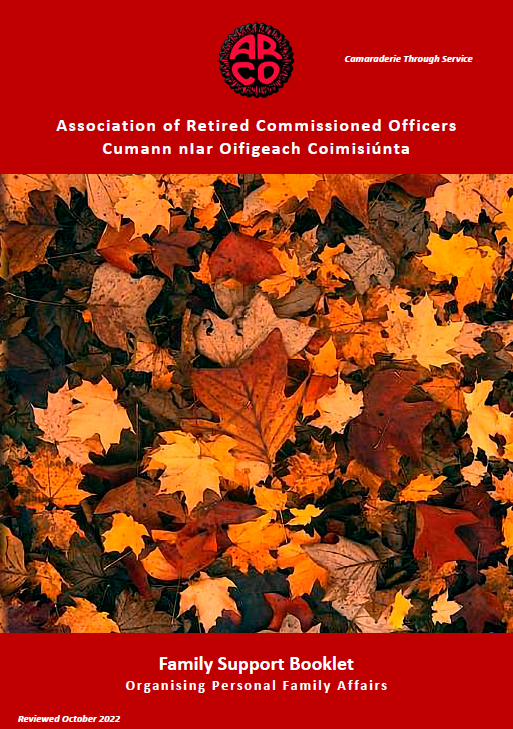 ARCO members are often advised to ensure their personal affairs are in order. This involves putting in place prudent personal administrative arrangements to cover all eventualities.
With this in mind, and in furtherance of our organisation's objectives, ARCO reviewed its Family Support Booklet in October 2022. (See: https://arcoireland.com/family-support-booklet/)
ARCO wishes to acknowledge the information and assistance provided by the Defence Forces, ARCO members, CAOGA and public bodies in the preparation of this booklet.
The booklet is dedicated to the late Colonel Harry Crowley whose original proposal led to the publication of its first edition. Ar dheis Dé go raibh sé.
The Family Support Booklet includes a prototype Personal Affairs Checklist, which was produced with the assistance of CAOGA. This checklist is designed for the recording of personal affairs and papers.

The Citizens Information website,  https://www.citizensinformation.ie/en/, which is frequently referred to in our support booklet, provides timely, comprehensive information on rights and entitlements. The website is well worth a visit and covers a wide range of subjects and services of interest to our members. This includes links to relevant departments' websites, along with access to downloadable forms. It covers topics such as:
Entitlements for older or retired people

Working part-time

Looking for employment or internship schemes

Starting a business

Going to college

Being a tenant

Applying for a social welfare payment

Applying for a medical card

Applying for a GP visit card

Applying for a European Health Insurance Card

Claiming a tax credit

Finding out about income tax

Finding out about the Universal Social Charge (USC)

Finding out about Capital Acquisitions Tax (CAT)

Making a will

Getting planning permission
If you have a question on any topic, you can contact the Citizens Information Phone Service on 0818 07 4000 (Monday to Friday, 9am to 8pm).